We offer our public service professionals a 10% discount (police, firefighter, military).*IN STORE ONLY*
Login
Log in if you have an account
Dont have an account? Register

Family Time Games

is a game store concept that encourages games for families and groups of friends.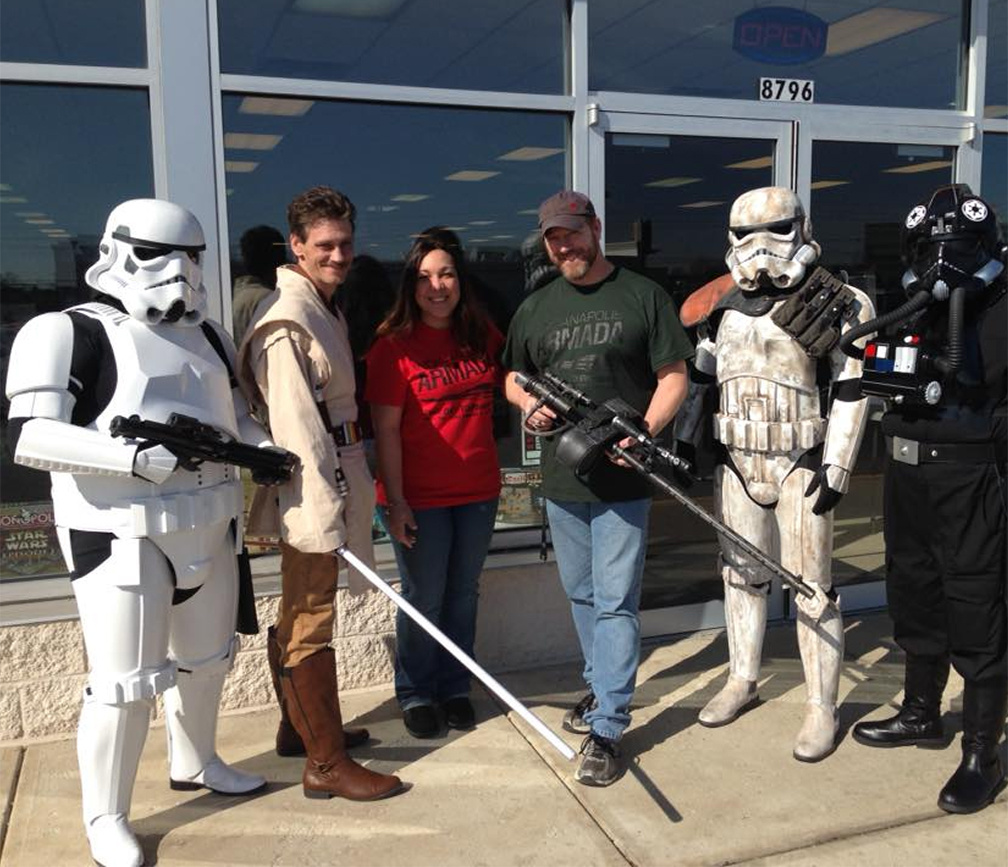 This idea is to encourage spending time with your kids, friends, siblings, and spouse having a fun time. It is a hub of laughter for all visitors. Staff spends time teaching new games to customers and inspiring both competitive and cooperative play. FTG carries a wide variety of games - from checkers and chess, to miniature tabletop strategy games, to role-playing that all help build critical thinking, problem-solving, conflict resolution, and sportsmanship. We believe the skills and experiences we promote will be formative to our younger patrons and will enhance their character -- these skills are useful and sometimes difficult to teach.

We believe that the impact of playing games with your children, even one night a week, can not be underestimated. Our mission is to bring these games to everyone. Creating a network of resources by reaching out to family communities, schools, clubs and in store events to push this family game night idea. We feel we will succeed by expanding this network to include friends and creating a positive social environment that is friendly to everyone, especially mothers that need to feel comfortable with this concept.
As the owner,
Shane says

:

I'm passionate about family and children. I have five children that I spend time playing with and encourage to play with each other. I have coached track at Ben Davis as an outlet to reach young adults trying to pass on life lessons and mentor them to help them become better adults. I believe building a strong family community is essential to a productive society. My life has shown me that families that play together form stronger bonds and stay together and I wish to continue to share this bonding environment and expound upon it.

I have been playing games with my parents since before I can recall. It was checkers and chess as a child with my father, grandfathers, uncles, and great uncles. Monopoly and Risk with my mother and brother on rainy days throughout the year. In the early 80's I learned about role-playing games and in the early 90's I learned miniature tabletop wargames coming full circle to board games with the major explosion of board games in the late 90's. I have followed the gaming industry with a great passion for over 30 years.

In my mid-twenties, I joined the military as a Navy SEAL and served for 10 years. I followed that by joining John & Will Kassebaum in founding an algae nutraceutical/pharmaceutical start-up company that has a bright future. This Family Time Games store concept has been an idea I have been researching and gathering strategies on for well over 15 years that I believe will be extremely successful in this market. I hope you will come enjoy it with me!
Come Visit Our Store

Quality Products
We stand behind our games as some of the best made in the industry and of the thousands of titles made each year we select ones that we have personally tried and liked. We can help you find the game that fits you.

Friendly Staff
Our staff will help you find the right game for you and we host all kinds of demo's. Come in and talk to us about what you are looking for.




Good Community
Family Time Games works at building community by sponsoring all kinds of local gaming groups and hosting meet-ups and donating to fundraisers like Toys for Tots, Operation supply drop, Flanner house, Miss Teen Indiana, Butler and Zionsville HS to name a few!